News
About Design Simulation Technologies
Innovative High School Teacher Uses Working Model 2D and SimWise4D to Accelerate Concept Development
Cutting Edge Physics Instruction Fully Prepares Students for College and STEM Careers.
Canton, MI (April 27, 2015) – DST (Design Simulation Technologies, Inc.; www.design-simulation.com) of Canton, MI, today announced commercial products Working Model 2D and SimWise 4D are being successfully used in high school physics, and STEM education programs.
As demand for more vigorous STEM education increases, Dr. Victor Pinks II, goes beyond core physics curriculum with his students at Marmion Academy near Chicago, IL. He uses simulation technology to teach concepts, supplement experiments and improve design skills students require to be successful in college, and in their careers. "I have had a lot of success with Working Model 2D. I use it daily, and couldn't teach without it. I think it replaces more than half of my actual experimental costs and enriches the whole process."
A chemical physicist by training, Pinks understands the importance of learning with technology. Lecturing physics concepts first, Pinks then demonstrates a simulation model to both validate his lecture, and allow students to quickly visualize a concept in motion. Then he gives students their own simulation problem, so they can interact with the concept, and learn professional design tools. "Working Model 2D and SimWise 4D live in the model world where predictions are made. Sometimes models need realistic parameters. That's when we do physical experiments (real world) – when they are relevant to the problem, and improve model predictions by making them more realistic." says Pinks.
"One of many examples using 2D and 3D motion for physics, is to teach the concept of a driven and damped harmonic oscillator that scans frequencies up to resonance, and then beyond. I lecture the topic first, and then present a base model for the class to build. After that I ask the class to change variables, using a spring constant of say, 1000 to find their resonant frequency (replacing it in the data table). With a bunch of simulations like this in my arsenal, I can accelerate concept development faster than I've ever seen. Students love it! They think it\'s a video game and consider it no more challenging." says Pinks.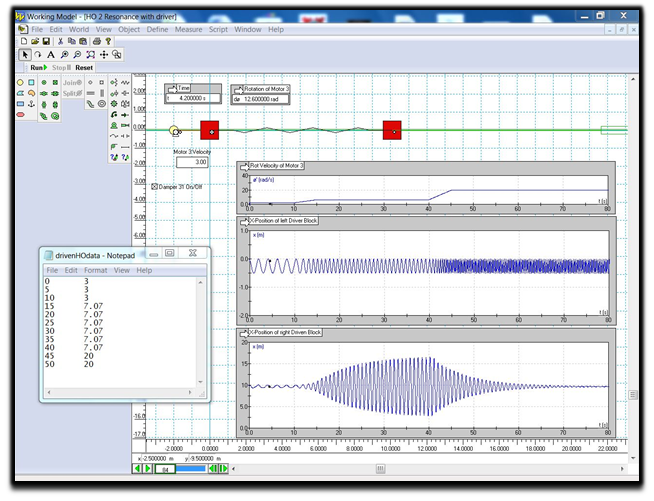 In addition to his teaching duties, Pinks moderates the Engineering Club, and directs operations at C/PARC, the new Computational Prototyping and Research Engineering Center at Marmion Academy. With DST products at C/PARC, students are now working on real world business projects that will put them ahead of equally talented college applicants. In its coming third year, success appears to be unmatched by area schools, and could provide a model for STEM education on a broader scale in the future. "Working Model 2D has changed the way I teach Physics, I'm getting more engagement in physics, along with more "ah hah" moments. I don't know if I could ever go back to the old way."
"Dr. Pinks is certainly a leading innovator in the field of STEM education and DST wholeheartedly support his efforts" said Alan Wegienka, DST President. "Not only are his students mastering physics, they are doing it while using professional-level commercial engineering software. This will make it more comfortable for those that go on to obtain engineering degrees and make them more value to their future employers."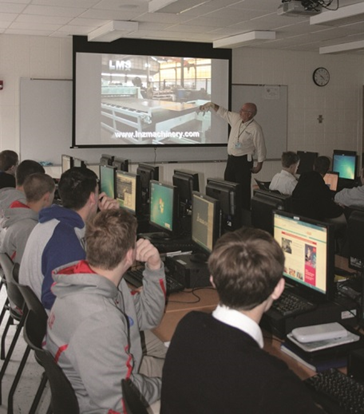 About Marmion Academy
Founded in 1933-1934, Marmion Academy is a Catholic-Benedictine college preparatory high school for young men located In Aurora, Illinois (www.marmion.org). Marmion offers outstanding leadership programs in JROTC and Leadership Development. (see ACT Statistics for 2014 class ACT statistics).
For more info on C/PARC, please see: Marmion C/PARC
About DST
DST develops physics-based simulation software. The company's products are used by engineering professionals to build and test virtual models of their mechanical designs, and by STEM educators and students in the classroom to teach and learn about physics and engineering kinematics, dynamics, and machine design.
With DST's SimWise 4D, Working Model 2D, and Dynamic Designer products, users evaluate design performance, by conducting complete, accurate simulations. Engineers, professors and students can quickly perform "what-if" analyses, find and correct design problems, plus refine and validate designs without the need for physical prototypes.

Students in high school and college use Interactive Physics, DST's award-winning educational software, to explore and understand the physical world through simulation.
DST develops, markets, and supports these software tools for commercial and academic users worldwide. Selected DST products are available from leading CAD suppliers and CAE resellers. Learn more by visiting the DST website at www.design-simulation.com.
---