For control engineers, we offer the ability to link Working Model and MATLAB®. For instance, explore a MATLAB-generated control system in Working Model's simulation environment to gain insight into the physical behavior of the closed-loop system.
Microsoft Excel
Working Model has a built-in capability to link to Microsoft Excel spreadsheets through DDE (dynamic data exchange). Engineeers can drive nearly any actuator, motor, spring, or constraint through formulas and cells in Excel spreadsheets.
SimWise 4D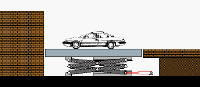 SimWise 4D is an engineering tool ideal for the mechanical engineer who designs products with moving components.
This unique application merges motion and stress analysis into a single functional modeling system. Engineers can now test the dynamics of their assemblies before manufacturing and find out if it will break, without building physical prototypes, thereby driving down development costs and producing more reliable products.
Other interesting links