Working Model 2D
2D Dynamic Motion Simulation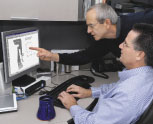 Interactivity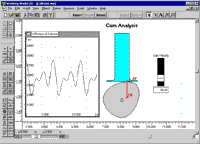 With Working Model, you can interact with controls while your simulation runs. For instance, change the gains on your PID controller in the balancing stick problem. Or, alter the disturbance signal during the simulation to check the robustness of your controller.
Collision Detection
Working Model can automatically simulate interactions among complex shapes with collision detection and response. For instance, simulate the liftoff in cams, the backlash in gears, or the rolling and slipping of wheels.
Multiple Representations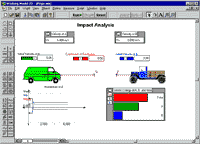 View your simulations in a variety of representations. Watch the impact between two automobiles as an animation with vectors, line graphs, bar graphs, and meters. By viewing models from many representations, users get a better understanding of the principles they are studying.
---