SimWise 4D
Motion Simulation, Stress Analysis, and Optimization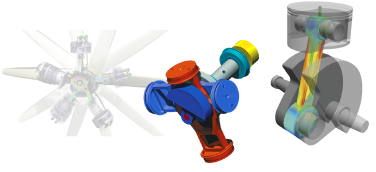 SimWise 4D - Working with CAD
SimWise is a CAD neutral product and the intention of DST is to work with every CAD system at the highest level possible. The means of interfacing with a CAD system fall broadly into three categories:
Generic or Neutral files
Native access via FILE OPEN
CAD Plug-in
Generic/Neutral File
This is the lowest level of CAD integration. SimWise can read IGES, STEP, Parasolids, and ACIS files. If an assembly structure exists in these files, SimWise will maintain that structure. Most, if not all, CAD systems can export one or more of these formats.
Native Access via FILE OPEN
SimWise can directly open the following CAD file formats:
SOLIDWORKS parts and assemblies
Solid Edge parts and assemblies
Autodesk Inventor parts and assemblies
CATIA V5 part and product files
NX part and assembly files
PTC Creo part and assembly files
SimWise will transfer the part geometry, assembly/sub-assembly structure, part and assembly names, and material properties. SimWise maintains links to the CAD model and later, if the CAD model changes, the SimWise model can be updated. Depending on the extent of the change, most if not all of the SimWise information will be preserved across the update.

CAD Plug-ins
SimWise contains Plug-ins for the following CAD systems:
SOLIDWORKS
Solid Edge
Autodesk Inventor
SpaceClaim
Alibre Design
Onshape
IronCAD
Plug-ins transfer the same type of information that FILE OPEN does, plus more. The plug-in will transfer assembly constraints or mates which are converted automatically to SimWise motion constraints. Some Plug-ins also transfer dimensions and parameters from the CAD system to SimWise to be used in Optimization. With a plug-in a transfer to SimWise can be initiated from within the CAD system and an update to the SimWise model from the CAD model can be initiated from within SimWise.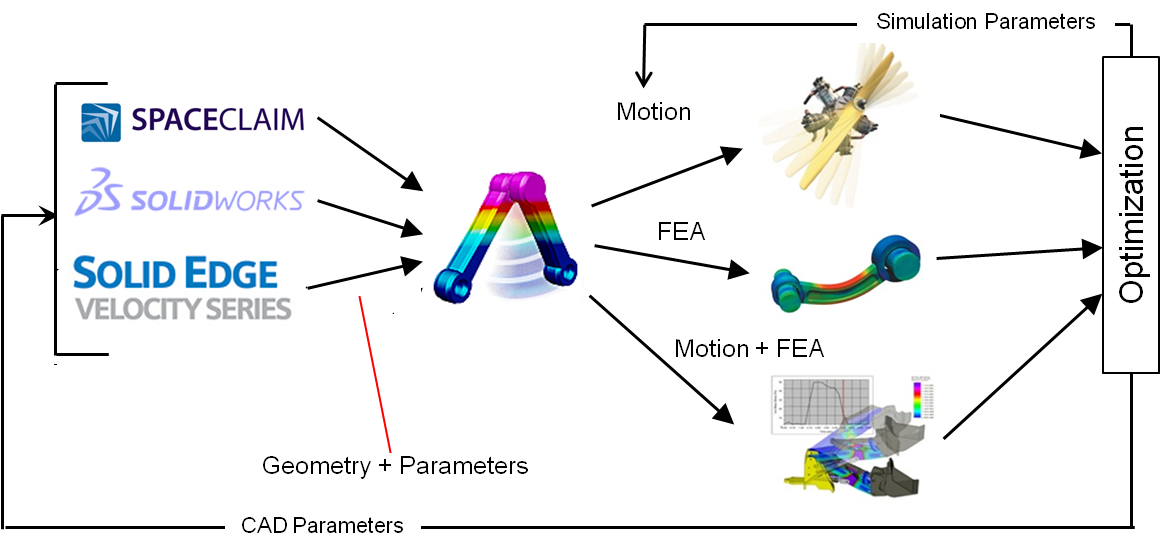 Plug-ins are the best way to transfer data from CAD to SimWise because more information is transferred and it is transferred with more intelligence.
---