Solutions
For Simscape Multibody Users

Integrate CAD with Simscape Multibody
If you are using Simscape Multibody from Mathworks and need to simulate mechanical models that are defined in a CAD system you understand the challenges that are involved in translating the CAD model to Simscape Multibody, debugging the multibody model so that it performs as it should, and dealing with updates to the CAD assembly later in the process.
Our SimWise product provides a solution to all of these issues by providing a seamless bridge between CAD and Simscape Multibody. It provides an easy to use graphical environment for transforming a CAD assembly into a simulation ready multibody model. Once you are satisfied with the SimWise multibody model, you can use the GetGeometry application to transfer that model directly into Simscape Multibody.
Using SimWise, the CAD to Simscape Multibody workflow becomes: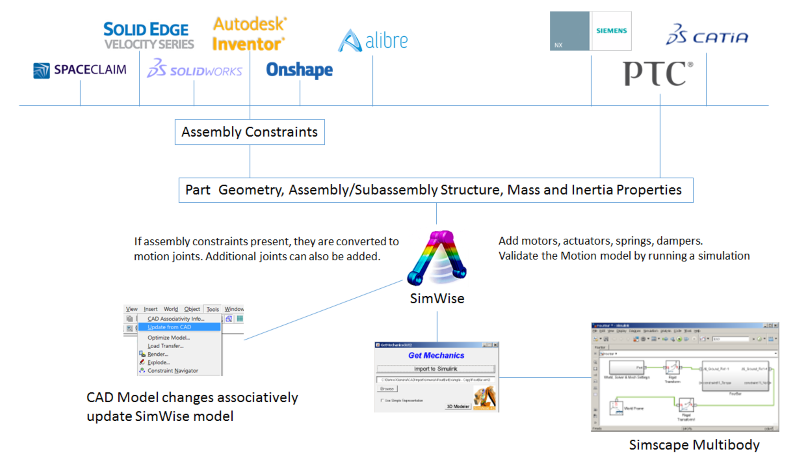 Key Features
Directly open assembly models from leading CAD systems.
CAD Plug-ins for six CAD systems transfer assembly model plus assembly constraints.
Assembly constraints automatically converted to motion joints.
Add motion specific objects to model, springs, dampers, forces, moments, motors, actuators.
Simulate the multibody model to insure it performs correctly.
Transfer data to Simscape multibody.
Updates to CAD model associatively update SimWise model.
Benefits
Significant time reduction moving from CAD to Simscape Multibody. Model definition now takes minutes or hours.
Utilizes existing CAD data, no need to recreate.
The right tool for the right job. CAD for parts/assembly definition, SimWise for multibody definition, Simscape Multibody for simulation and integration with control systems.
Allows Simscape Multibody to be used earlier in the design cycle because design changes are handled easily.
---