Solutions
For Solid Edge Users

Solutions for Solid Edge
SimWise 4D is the most cost-effective simulation product that is integrated with Solid Edge. It can bi-Directionally transfer parts, assemblies, assembly relations, design variables and dimensions from Solid Edge to SimWise. Once within SimWise simulation specific information can be added resulting in a functional operating prototype allowing a multitude of Simulations to be run directly using the information from Solid Edge.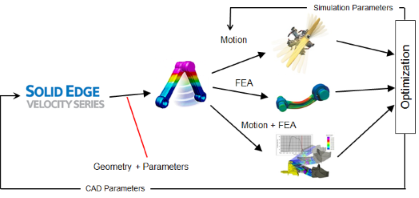 If the Solid Edge model is modified, the changes can be sent from Solid Edge to SimWise, where the modification will be reflected in the SimWise model without effecting any Simulation specific information added to the SimWise model.
SimWise provides the following simulation capabilities:
SimWise 4D provides the following:
Feature
Benefit
Desktop product integrated within Solid Edge.
Product is built and streamlined for Simulation.
No need to use a Solid Edge license while simulating.
Extensive set of simulation capabilities.
Handle your current simulation needs and ready for your future needs. 3D Dynamic Motion, FEA, Optimization, Control System Co-simulation, and Fatigue life calculations.
Bi-directional data flow.
Solid Edge variables and dimension can be used with optimization allowing part shape to be modified by SimWise optimization engine. Geometry updates reflected in simulation model while maintaining simulation specific objects.
Virtual prototype of your design.
Allows questions like "Does it Work?", "Will it Break?", "How long will it last?" and "Where can it be improved?" to be answered without building physical hardware or running physical tests.
Cost effective.
Provides high-end simulation capabilities at a cost compatible with your Solid Edge licenses.
For more information, please see:
---