Dynamic Designer Motion
Motion Simulation embedded in Solid Edge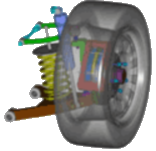 Academic Version
We are pleased to provide a full version of Dynamic Designer Motion Professional that works with the academic version of Solid Edge. No license is required for this version of Dynamic Designer, but you are subject to the same limits as with Solid Edge documents (ie Assemblies saved under an academic license cannot be opened with a commercial license of Solid Edge). Additionally we prohibit the use of this software for any funded research projects without the prior, written consent of DST. Please contact us, if you have any quesitons.
To download the free academic version of Dynamic Designer please enter your information in the form below. DST will review your information, if we need any additional clarification we will contact you, and upon approval you will get an Email with the instructions on how to download the software. Make sure you provide a valid Email address.
These versions of Dynamic Designer Motion are compatible with Solid Edge ST4, ST5, ST6, ST7 ST8 and ST9, although not all capabilities work with ST4. If you need a version of Dynamic Designer for Solid Edge ST3 or earlier, please contact us us.
---