Dynamic Designer Motion
Motion Simulation embedded in Solid Edge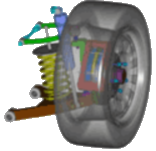 Simply Motion Applications
Evaluate an unlimited number of design alternatives before you buih3ld and test a physical prototype.
How does it move?
With Simply Motion you can see the physical motion of the assembly.
Communicate design information
For many mechanisms, the only way to communicate function is through and animation.
What is the work cycle/sequence of operations?
With Simply Motion you can sequence system motion so you can understand the complete system, not just a component.
Do parts interfere?
Checking for interference while all the parts of the mechanism are moved according to the law of physics will help detect interfering parts before building a physical device.
Application Area by Industry
| | | |
| --- | --- | --- |
| Application Area | Product | Motion Application |
| Aerospace | Satellite | Thruster simulation/sizing, Dynamic Motion characteristics |
| Aerospace | Solar panels on Satellite | Deployment simulation, Dynamic stability |
| Aerospace | Space deployed robotic arms | Operation simulation, Clearance Checking, Forces transmitted, Payload manipulation |
| Aerospace | Turbo machinery | Operation simulation, Clearance Checking, Dynamic balancing, Motor Sizing |
| Ag/Construction Equipment | Bucket/Blade linkages | Forces transmitted, sizing of pins, and actuators. |
| Ag/Construction Equipment | Control Linkages | Clearance |
| Ag/Construction Equipment | Steering/Suspension systems. | Turning radius, tire clearance, forces generated. |
| Ag/Construction Equipment | Tracks | Sizing of pins. |
| Ag/Construction Equipment | Vehicle stability | Road transport, Roll over criteria. |
| Aircraft | Control Linkages | Size of, interference checking. |
| Aircraft | Door mechanisms | Operation of, force required to open, Sizing of hinges. |
| Aircraft | Engine attachment | Simulation of in flight engine detachment |
| Aircraft | Flap/spoiler actuators | Extension/retraction, actuator sizing. |
| Aircraft | Flight controls | Operation of, forces transmitted to pilot. |
| Aircraft | Gyroscope based instruments | Stability of, motor sizing. |
| Aircraft | Landing gear | Extension/retraction, lateral force calculation, actuator size required. |
| Aircraft | Steering components | Turning radius calculation, forces generated. |
| Aircraft Engines | Control Linkages | Clearance checking, component sizing. |
| Aircraft Engines | Thrust reversers | Deployment/retraction, clearance, sizing of actuators. |
| Airport equipment | Boarding bridges. | Operational simulation, actuator/motor sizing. |
| Amusement/Entertainment | Bowling - Automatic Pin Setters | Operation simulation, clearance checking. |
| Amusement/Entertainment | Ferris wheel, tilt-a-whirl, etc. | Operational simulation, component sizing, accident reconstruction. |
| Amusement/Entertainment | Theater Lighting equipment | Moveable light simulation. |
| Automotive | Control Linkages | Operation, clearance checking. |
| Automotive | Door Locks | Operation of, force required to open, Sizing of components. |
| Automotive | Door mechanism | Operation of, force required to open, Sizing of hinges. |
| Automotive | Steering mechanisms | Operation, clearance checking. |
| Automotive | Suspensions | Sizing of components, configuration. |
| Automotive | Window mechanism | Operation of, force required to open, Sizing of components. |
| Automotive | Windshield wipers | Operation. |
| Computer Equipment | CD-ROM | Motor Sizing, Dynamic balancing |
| Computer Equipment | Disk Drive | Operation simulation, Clearance Checking, Dynamic balancing, Motor Sizing |
| Computer Equipment | Scanner | Operation simulation, Clearance Checking, Forces transmitted, Motor Sizing |
| Computer Equipment | Tape Drive | Tape transport mechanism clearance and simulation |
| Consumer Products | Answering Machines | Tape Mechanism |
| Consumer Products | Camera | Operation simulation, Clearance Checking, Forces transmitted, Shutter velocity prediction |
| Consumer Products | CD Player | Motor sizing, Dynamic balancing |
| Consumer Products | Door Knob | Operation simulation, Clearance Checking, Forces transmitted |
| Consumer Products | Door Lock | Operation simulation, Clearance Checking, Forces transmitted |
| Consumer Products | Driveway gate | Operation simulation, Clearance Checking, Hinge Forces |
| Consumer Products | Garage door opener | Operation simulation, clearance checking. |
| Consumer Products | Home Appliance - Dryer | Dynamic balancing, Motor Sizing |
| Consumer Products | Home Appliance - Washing machine | Dynamic balancing, Motor Sizing |
| Consumer Products | Kitchen Appliance - Blender | Operation simulation, Clearance Checking, Motor Sizing |
| Consumer Products | Kitchen Appliance - Can opener | Operation simulation, Motor Sizing |
| Consumer Products | Kitchen Appliance - Dishwasher | Hinge Forces, Tray movement |
| Consumer Products | Kitchen Appliance - Mixer | Operation simulation, Clearance Checking, Forces transmitted, Motor sizing |
| Consumer Products | Kitchen Appliance - Refrigerator | Hinge Forces, Tray/Drawer movement |
| Consumer Products | Kitchen Appliance - Toaster | Toast pop-up mechanism simulation |
| Consumer Products | Lawn Mower | Operation simulation, Clearance Checking, Motor Sizing, Roll over stability |
| Consumer Products | Power Tools | Operation simulation, Clearance Checking, Motor Sizing, Dynamic balancing |
| Consumer Products | Snow Blower | Operation simulation, Clearance Checking, Motor Sizing |
| Consumer Products | Tape deck/player | Operation simulation, Clearance Checking, Forces transmitted, Tape transport mechanism |
| Consumer Products | VCR | Tape transport mechanism simulation |
| Consumer Products | Video Camera | Operation simulation, Clearance Checking, Forces transmitted, Tape transport mechanism |
| Electrical Equipment | Fuse/Breaker | Operation simulation, Clearance Checking, Forces transmitted |
| Electrical Equipment | Relays | Operation simulation, Clearance Checking, Forces transmitted |
| Electrical Equipment | Switches | Operation simulation, Clearance Checking, Forces transmitted |
| Furniture | Dentist/Barber Chair | Operation simulation, Clearance Checking |
| Furniture | Folding/Fold out bed | Operation simulation, Clearance Checking, Force required to operate |
| Furniture | Office Chair | Operation simulation, Stability check |
| Furniture | Reclining Chair | Operation simulation, Stability check |
| Industrial Equipment | Cherry Picker | Stability simulation, Maximum load calculations |
| Industrial Equipment | Chip Inserter | Operation simulation, Clearance Checking, Motor Sizing |
| Industrial Equipment | Compressors | Operation simulation, Clearance Checking, Dynamic balancing, Motor Sizing |
| Industrial Equipment | Conveyors | Operation simulation, Clearance Checking, Forces transmitted, Motor Sizing |
| Industrial Equipment | Elevator/Lift | Door mechanism simulation and clearance |
| Industrial Equipment | Fork Lift | Stability simulation, Maximum load calculations |
| Industrial Equipment | Injection Mold | Cycle Simulation, Mechanism Simulation for complex molds. |
| Industrial Equipment | Injection Molding Machine | Operation simulation, Clearance Checking, Motor Sizing |
| Industrial Equipment | Machine Tools | Operation simulation, Clearance Checking, Forces transmitted, Dynamic balancing |
| Industrial Equipment | Overhead Cranes | Operation simulation, Clearance Checking, Forces transmitted, Motor Sizing |
| Industrial Equipment | Pick and Place Machine | Operation simulation, Clearance Checking, Motor Sizing |
| Industrial Equipment | Power Tools | Operation simulation, Clearance Checking, Motor Sizing, Dynamic balancing |
| Industrial Equipment | Pumps | Operation simulation, Clearance Checking, Dynamic balancing, Motor Sizing |
| Industrial Equipment | Robots | Operation simulation, Clearance Checking, Dynamic balancing, Forces transmitted |
| Medical Equipment | CAT/MRI scanner | Operation simulation, Clearance Checking |
| Medical Equipment | Dental Drill | Operation simulation, Dynamic balancing |
| Medical Equipment | Rehabilitation Equipment | Operation simulation, Clearance Checking |
| Military/Armaments | Bomb | Release/trigger mechanism simulation and clearance |
| Military/Armaments | Large Gun | Recoil Forces, Shell ballistic simulations |
| Military/Armaments | Mobile/Pontoon Bridge | Deployment simulation, Forces transmitted, Motor Sizing |
| Military/Armaments | Small Arms | Trigger mechanism, Recoil Forces, ballistic simulations |
| Military/Armaments | Tank | Turret simulations, clearance, Motor Sizing, Forces transmitted |
| Office Equipment | Fax Machine | Paper Mechanism clearance and operation simulation |
| Office Equipment | Laser Printer | Paper Mechanism clearance and operation simulation |
| Office Equipment | Photocopier | Paper Mechanism clearance and operation simulation |
| Office Equipment | Plotter | Operation simulation, Clearance Checking, Forces transmitted |
| Sporting Goods | Bicycle Shift Mechanism | Operation simulation, Clearance Checking, Forces transmitted |
| Sporting Goods | Bicycles | Operation simulation, Clearance Checking, Frame Forces |
| Sporting Goods | Exercise bicycle | Operation simulation, clearance checking. |
| Sporting Goods | Nautilus Machine | Sizing of components, calculation of weight placement and size. |
| Sporting Goods | Treadmill | Operation simulation, clearance checking. |
Application Area by Product
| | | |
| --- | --- | --- |
| Product | Industry | Motion Application |
| Answering Machines | Consumer Products | Tape Mechanism |
| Bicycle Shift Mechanism | Sporting Goods | Operation simulation, Clearance Checking, Forces transmitted |
| Bicycles | Sporting Goods | Operation simulation, Clearance Checking, Frame Forces |
| Boarding bridges. | Airport equipment | Operational simulation, actuator/motor sizing. |
| Bomb | Military/Armaments | Release/trigger mechanism simulation and clearance |
| Bowling - Automatic Pin Setters | Amusement/Entertainment | Operation simulation, clearance checking. |
| Bucket/Blade linkages | Ag/Construction Equipment | Forces transmitted, sizing of pins, and actuators. |
| Camera | Consumer Products | Operation simulation, Clearance Checking, Forces transmitted, Shutter velocity prediction |
| CAT/MRI scanner | Medical Equipment | Operation simulation, Clearance Checking |
| CD Player | Consumer Products | Motor sizing, Dynamic balancing |
| CD-ROM | Computer Equipment | Motor Sizing, Dynamic balancing |
| Cherry Picker | Industrial Equipment | Stability simulation, Maximum load calculations |
| Chip Inserter | Industrial Equipment | Operation simulation, Clearance Checking, Motor Sizing |
| Compressors | Industrial Equipment | Operation simulation, Clearance Checking, Dynamic balancing, Motor Sizing |
| Control Linkages | Ag/Construction Equipment | Clearance |
| Control Linkages | Aircraft | Size of, interference checking. |
| Control Linkages | Aircraft Engines | Clearance checking, component sizing. |
| Control Linkages | Automotive | Operation, clearance checking. |
| Conveyors | Industrial Equipment | Operation simulation, Clearance Checking, Forces transmitted, Motor Sizing |
| Dental Drill | Medical Equipment | Operation simulation, Dynamic balancing |
| Dentist/Barber Chair | Furniture | Operation simulation, Clearance Checking |
| Disk Drive | Computer Equipment | Operation simulation, Clearance Checking, Dynamic balancing, Motor Sizing |
| Door Knob | Consumer Products | Operation simulation, Clearance Checking, Forces transmitted |
| Door Lock | Consumer Products | Operation simulation, Clearance Checking, Forces transmitted |
| Door Locks | Automotive | Operation of, force required to open, Sizing of components. |
| Door mechanism | Automotive | Operation of, force required to open, Sizing of hinges. |
| Door mechanisms | Aircraft | Operation of, force required to open, Sizing of hinges. |
| Driveway gate | Consumer Products | Operation simulation, Clearance Checking, Hinge Forces |
| Elevator/Lift | Industrial Equipment | Door mechanism simulation and clearance |
| Engine attachment | Aircraft | Simulation of in flight engine detachment |
| Exercise bicycle | Sporting Goods | Operation simulation, clearance checking. |
| Fax Machine | Office Equipment | Paper Mechanism clearance and operation simulation |
| Ferris wheel, tilt-a-whirl, etc. | Amusement/Entertainment | Operational simulation, component sizing, accident reconstruction. |
| Flap/spoiler actuators | Aircraft | Extension/retraction, actuator sizing. |
| Flight controls | Aircraft | Operation of, forces transmitted to pilot. |
| Folding/Fold out bed | Furniture | Operation simulation, Clearance Checking, Force required to operate |
| Fork Lift | Industrial Equipment | Stability simulation, Maximum load calculations |
| Fuse/Breaker | Electrical Equipment | Operation simulation, Clearance Checking, Forces transmitted |
| Garage door opener | Consumer Products | Operation simulation, clearance checking. |
| Gyroscope based instruments | Aircraft | Stability of, motor sizing. |
| Home Appliance - Dryer | Consumer Products | Dynamic balancing, Motor Sizing |
| Home Appliance - Washing machine | Consumer Products | Dynamic balancing, Motor Sizing |
| Injection Mold | Industrial Equipment | Cycle Simulation, Mechanism Simulation for complex molds. |
| Injection Molding Machine | Industrial Equipment | Operation simulation, Clearance Checking, Motor Sizing |
| Kitchen Appliance - Blender | Consumer Products | Operation simulation, Clearance Checking, Motor Sizing |
| Kitchen Appliance - Can opener | Consumer Products | Operation simulation, Motor Sizing |
| Kitchen Appliance - Dishwasher | Consumer Products | Hinge Forces, Tray movement |
| Kitchen Appliance - Mixer | Consumer Products | Operation simulation, Clearance Checking, Forces transmitted, Motor sizing |
| Kitchen Appliance - Refrigerator | Consumer Products | Hinge Forces, Tray/Drawer movement |
| Kitchen Appliance - Toaster | Consumer Products | Toast pop-up mechanism simulation |
| Landing gear | Aircraft | Extension/retraction, lateral force calculation, actuator size required. |
| Large Gun | Military/Armaments | Recoil Forces, Shell ballistic simulations |
| Laser Printer | Office Equipment | Paper Mechanism clearance and operation simulation |
| Lawn Mower | Consumer Products | Operation simulation, Clearance Checking, Motor Sizing, Roll over stability |
| Machine Tools | Industrial Equipment | Operation simulation, Clearance Checking, Forces transmitted, Dynamic balancing |
| Mobile/Pontoon Bridge | Military/Armaments | Deployment simulation, Forces transmitted, Motor Sizing |
| Nautilus Machine | Sporting Goods | Sizing of components, calculation of weight placement and size. |
| Office Chair | Furniture | Operation simulation, Stability check |
| Overhead Cranes | Industrial Equipment | Operation simulation, Clearance Checking, Forces transmitted, Motor Sizing |
| Photocopier | Office Equipment | Paper Mechanism clearance and operation simulation |
| Pick and Place Machine | Industrial Equipment | Operation simulation, Clearance Checking, Motor Sizing |
| Plotter | Office Equipment | Operation simulation, Clearance Checking, Forces transmitted |
| Power Tools | Consumer Products | Operation simulation, Clearance Checking, Motor Sizing, Dynamic balancing |
| Power Tools | Industrial Equipment | Operation simulation, Clearance Checking, Motor Sizing, Dynamic balancing |
| Pumps | Industrial Equipment | Operation simulation, Clearance Checking, Dynamic balancing, Motor Sizing |
| Reclining Chair | Furniture | Operation simulation, Stability check |
| Rehabilitation Equipment | Medical Equipment | Operation simulation, Clearance Checking |
| Relays | Electrical Equipment | Operation simulation, Clearance Checking, Forces transmitted |
| Robots | Industrial Equipment | Operation simulation, Clearance Checking, Dynamic balancing, Forces transmitted |
| Satellite | Aerospace | Thruster simulation/sizing, Dynamic Motion characteristics |
| Scanner | Computer Equipment | Operation simulation, Clearance Checking, Forces transmitted, Motor Sizing |
| Small Arms | Military/Armaments | Trigger mechanism, Recoil Forces, ballistic simulations |
| Snow Blower | Consumer Products | Operation simulation, Clearance Checking, Motor Sizing |
| Solar panels on Satellite | Aerospace | Deployment simulation, Dynamic stability |
| Space deployed robotic arms | Aerospace | Operation simulation, Clearance Checking, Forces transmitted, Payload manipulation |
| Steering components | Aircraft | Turning radius calculation, forces generated. |
| Steering mechanisms | Automotive | Operation, clearance checking. |
| Steering/Suspension systems. | Ag/Construction Equipment | Turning radius, tire clearance, forces generated. |
| Suspensions | Automotive | Sizing of components, configuration. |
| Switches | Electrical Equipment | Operation simulation, Clearance Checking, Forces transmitted |
| Tank | Military/Armaments | Turret simulations, clearance, Motor Sizing, Forces transmitted |
| Tape deck/player | Consumer Products | Operation simulation, Clearance Checking, Forces transmitted, Tape transport mechanism |
| Tape Drive | Computer Equipment | Tape transport mechanism clearance and simulation |
| Theater Lighting equipment | Amusement/Entertainment | Moveable light simulation. |
| Thrust reversers | Aircraft Engines | Deployment/retraction, clearance, sizing of actuators. |
| Tracks | Ag/Construction Equipment | Sizing of pins. |
| Treadmill | Sporting Goods | Operation simulation, clearance checking. |
| Turbo machinery | Aerospace | Operation simulation, Clearance Checking, Dynamic balancing, Motor Sizing |
| VCR | Consumer Products | Tape transport mechanism simulation |
| Vehicle stability | Ag/Construction Equipment | Road transport, Roll over criteria. |
| Video Camera | Consumer Products | Operation simulation, Clearance Checking, Forces transmitted, Tape transport mechanism |
| Window mechanism | Automotive | Operation of, force required to open, Sizing of components. |
| Windshield wipers | Automotive | Operation. |
---