Dynamic Designer Motion
CAD Embedded Motion Simulation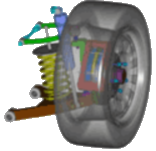 Building Confidence in the Design
Engineers at Machine Manufacturers Australia use CAD-embedded motion simulation to predict performance of glass processing machinery designs. This lends confidence -- not just to the design team, but also to MMA's customers as they commit to new orders.

Since its founding nearly a decade ago, Machine Manufacturers Australia (MMA) has designed and manufactured industrial glass processing machinery. The company's brand name Cutmaster® has become a symbol of excellence throughout the industry.

At first MMA focused locally, producing machinery for Australian companies. But the company soon extended its success worldwide by supplying high-profile international companies with top-quality glass processing machinery.

The first machines MMA produced were semi-automatic and fully automatic systems for cutting laminate glass. Its range of products has since expanded to include glass washing machines, vinyl applicators, pneumatic and hydraulic tilt tables, and free-fall tables.

"Seeing the virtual machine at work before risking commitments can speed the sales-to-delivery process by up to 80%."

From 2D Drafting to 3D Dynamics

In MMA's early days, conceptual designs were drafted on drawing boards. The company later migrated to two-dimensional (2D) computer-aided design (CAD) software to improve the efficiency of these drafting tasks. Hardware prototypes were then constructed from these drawings for design testing.

Last year MMA invested in a 3D CAD environment. Now the company's engineers use the computer for more than just drafting; they can actually perform all design and testing tasks electronically, right from initial concept. MMA's engineers don't need to wait for drafting, manufacture, and physical testing to see if a design concept works. Instead they can immediately build an assembly and see it in operation, then refine and optimize the design -- all on the computer, and all before producing a single drawing or building a single physical prototype.

The critical enabling technology in MMA's design simulation approach is Dynamic Designer/Motion software from Mechanical Dynamics, Inc. Dynamic Designer/Motion is built on the ADAMS® dynamic solution engine, the world's most commonly used mechanical system simulation tool.

Single-window integration within the CAD system lets MMA's engineers apply Dynamic Designer/Motion's capabilities without leaving their familiar CAD environment. A designer can instantly convert a CAD assembly into a working "virtual prototype" by adding joints, friction, motion, and forces.

The user then runs the assembly through a battery of realistic 3D dynamic simulations to test the design's functionality. Based on the results of these simulations, the user can progressively tweak the design and quickly iterate to optimal performance.

Accurate Upfront Insight

According to Brett Lewis, a design engineer for MMA, what Dynamic Designer/Motion lends more than anything else to the process is confidence. He says, "We use the software to test each phase of the model as it is conceived and assembled on the screen. This gives us confidence that we have a good solution for the customer. Then, seeing the proposed design in successful simulated operation gives the customer confidence to commit funds to the machine's production."

Lewis adds, "A project can move forward faster and on budget because everyone in the design and production team has -- again, the key word -- confidence in what they are doing. Communication is unambiguous and at a level such that everyone, including administrative staff and contractors, understands how the design will work."

According to Lewis, "It's not always obvious, but one of the greatest impediments to progress can be lack of confidence in a design on the part of engineering and production, management, and, most importantly, the customer. Seeing the virtual machine at work in living color on the screen, and being able to literally put it through its paces before risking large financial commitments is enough to speed the sales-to-delivery process by up to 80%."

Another confidence-building advantage of the simulation approach is that MMA gains an accurate upfront understanding of a proposed machine's production costs, which helps offer competitive pricing to their customers while still assuring profits.

Fast Customer Design Review

Using Dynamic Designer/Motion, MMA engineers can automatically check for interference between parts through the assembly's complete range of motion. They can then quickly and easily capture animation files, which can be e-mailed anywhere and viewed on any PC to show how the machine will look and operate. For example, the MMA design team can send an animation of a proposed machine for review by a customer in Europe within ten minutes of completing the Dynamic Designer/Motion simulation.

MMA engineers also use Dynamic Designer/Motion to test machine parts for forces, stresses, and deformation. This helps assure that parts are correctly sized, material waste is minimized, and strength requirements are safely met.

Once the "virtual machine" has been completely designed and tested on the computer, drawings can be automatically generated directly from the model's parts, then plotted for distribution. "In this way," notes Lewis, "we've shifted our main focus from creating a drawing to creating a design -- a design that we can be sure will work."
---