Dynamic Designer Motion
CAD Embedded Motion Simulation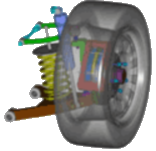 Optimizing Helicopter Control System Designs
In redesigning the 10-seat Mi-2 Sokol helicopter, Moscow Helicopter Plant engineers applied CAD-embedded Dynamic Designer/Motion simulation software. Now they're using the same software to test a new lightweight two-seater's design.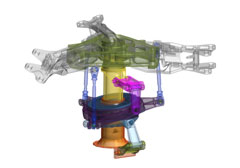 When engineers at the AOOT M.L. Milya Moscow Helicopter Plant set out to redesign the ten-seat Mi-2 Sokol helicopter, they used 3D CAD and embedded Dynamic Designer/Motion simulation software as key enabling tools.
Dynamic Designer/Motion, a product of the Design Technologies Division of Mechanical Dynamics, Inc., was used to quickly generate the accurate load conditions needed for finite element analysis (FEA).
Through effective use of these computer-aided design and engineering (CAD/CAE) tools, the Moscow team reduced the design cycle for the ten-seat Mi-2 Sokol helicopter from two years to just three months.
Now they are using the same mechanical design automation tools to help develop a new lightweight two-seat helicopter design.
Making it All Work Together
Dynamic Designer/Motion allows users to see and study the full-motion operational behavior of their complex CAD assemblies. The software is built upon Mechanical Dynamics' powerful ADAMS® dynamic solution engine. Thousands of engineering teams from nearly every manufacturing industry today rely on ADAMS software, making it the world's most widely used mechanical system simulation tool.
Assisting in the light two-seat helicopter's design have been the faculty and students of Moscow Aviazionny Institute, one of Russia's leading aerospace engineering schools, who have performed preparatory research. The design team has been particularly concerned with operations of three key helicopter control systems -- those for controlling lateral motion, pitch (especially in dive recovery), and pedal operations.
Optimizing performance of these systems continues to present tough challenges. At the first stage of the design process, the team learns required specifications for each helicopter unit, i.e., the final required outputs including allowable forces, displacements, and velocities. The team must then determine the needed strength and stiffness of the unit's individual parts. In this way, the designers assure that all parts work together as efficiently and effectively as possible in helicopter operations.
Using Dynamic Designer/Motion has greatly simplified the task of determining load conditions for FEA studies of individual parts. For example, the software has helped reduce the time needed to measure the forces affecting details of the helicopter's dive-recovery system. Designers can also quickly define the displacements in a helicopter unit's construction, including all dynamic characteristics of the assembly, and modify the geometry and motion characteristics parametrically until a workable solution is found.
Working Faster, with Added Confidence
Members of the helicopter's design team say, from past experience, it would take five to 10 times longer if they had to manually perform the tasks they're now doing on the computer with Dynamic Designer/Motion. And the team is not only working faster, they're also benefiting from being able to explore many "what-if?" design variations, validating the accuracy of their simulation results in physical testing.
The helicopter engineers believe that calculating FEA stresses and displacements based solely on assumed loads does not provide the degree of confidence needed to move forward quickly on a design. It's the use of Dynamic Designer/Motion, they believe, that gives them tangible data to truly optimize the design's performance.
Dynamic Designer/Motion, being fully integrated within a single window of the CAD systems, enables engineers to quickly and interactively modify their designs and perform motion simulations within the standard drawing file. There is no need for data translation, which preserves model data integrity.
---