Interactive Physics
Physics Simulation Software for the Classroom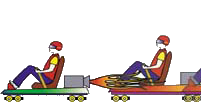 The following simulations were developed by physics educators. Feel free to download and use the simulations you find interesting. You need a full edition or a homework edition (not a demo edition) of Interactive Physics to run the experiment.
To add your experiment to the library, please call 1-800-766-6615 or email us at info@design-simulation.com
Note: Interactive Physics is correlated to National and State Education Standards and Objectives.
Conservation Laws
Doppler Effects
Frequency
Gravitation
Kinematics
Particle Dynamics

Planar Motion
Rockets
Advanced Topics
---