Working Model 2D
2D Dynamic Motion Simulation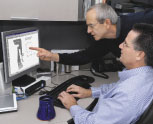 We are happy to provide a free evaluation version of our products to you if you have a legitimate interest in determining if they meet your requirements prior to making a purchase. When you fill out and submit the form below, your information will go to one of our sales representatives. They will contact you either by phone or Email and determine the parameters of your evaluation. Our goal is to provide you with the quickest way to successfully determine if our products can help you. Our products have a great technical depth and knowing what you are trying to do and how you want to approach the evaluation will allow us to provide you with advice that will save time for both you and us.
Please fill out this form completely, and make sure that your Email address and telephone number is correct. Required fields are marked with an asterisk (*). Per our Privacy Policy we will not disclose your information to third parties except as described in the policy.
It would be much better if you used your official company, school, or university EMail account rather than a Hotmail, gmail, Yahoo, or other type of account like this. Please also use your complete name and the complete name of the company or institution you work for.
This evaluation version is solely intended to allow you to determine if Working Model 2D meets your requirements.
---