Working Model 2D
2D Dynamic Motion Simulation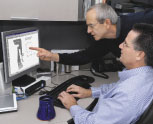 Professionals
"Now that I've compared the simulation data of Working Model with some real sled test results, I'm confident that we can rely on this type of engineering analysis. My nominal predictions on some of these tests have been within 5% of our measured values. That's outstanding."
Jim Salmon
Product Engineer
Ford Motor Company
"If you design anything with moving parts, you should have this program. I think Working Model may be the AutoCAD of the analysis industry."
Dr. Joel Orr
Orr Associates International
Chesapeake, Virginia
"Working Model is an extremely powerful tool on the manufacturing floor. It continues to save us time and money during the design of new machinery and as we troubleshoot problems that arise in our production lines."
Jose Ortiz
The Gillette Company
Santa Monica, California
"Working Model is the type of tool we've been waiting years for. Its intuitive and powerful design and problem solving capabilities are invaluable to us. We are able to do types of time-saving analysis never before possible."
Michael D. Myers
Panduit Corporation
New Lenox, Illinois
"I'm thrilled to finally have a product like Working Model. My design team creates better designs faster because they are collaborating more successfully. My job is easier, and my company is saving money."
Peter Newman
Senior Development Engineer
Eastman Kodak
"I think Working Model is a great tool. In just three months, I've already verified for myself and my management that this is a tool we should be using on a regular basis in the design of our new products."
Sergei Fedorjaczenko
Carlingswitch, Inc.
"I have great confidence in the results. And it's much more enjoyable to watch the machine tip over in my mechanism model than in the real world."
David Engvall
Snorkel Economy, Inc.
Educators
"At Rose-Hulman Institute of Technology, where excellence in undergraduate engineering and science education is one of our primary goals, communicating knowledge, ideas and concepts can take on many different forms. Working Model presents another excellent avenue to understanding rigid body dynamics through captivating visualization. Let the knowledge revolution begin!"
David J. Purdy, Ph.D.
Mechanical Engineering Department
Rose-Hulman Institute of Technology
"Working Model is a revolutionary piece of software that leapfrogs traditional applications... This is the kind of product that engineers really need."
Dr. Art Erdman
Professor, Mechanical Engineering
University of Minnesota
---