Working Model 2D
2D Dynamic Motion Simulation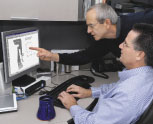 Closign the Design Gap
Automakers Help Vendors Deliver Better Products with Virtual Prototyping Software
The contractors that supply Detroit's "Big Three" automakers with parts and hardware work in a tough and competitive market. As quality becomes foremost in the minds of American car builders, suppliers must deliver parts that match the high standards of the Motor City's top engineers. One way for automotive contractors to improve the quality of their products is the use of motion analysis and virtual prototyping tools like Working Model from Design Simulation Technologies.
Manufacturers of automotive components have used computer aided engineering to develop products and design proposals for years. But today, more suppliers are relying on Working Model and similar simulation software to improve collaborative engineering with the major automakers that are their bread and butter.
Communication Breakdown
Tim Taylor has seen the best and worst of outsourced engineering. As an engineer with one of America's bigger car companies he is responsible for evaluating the viability of design proposals submitted by contractors. "I've seen some projects where you end up wondering if our designers and our vendors were ever in the same room," laments Taylor.
The problem isn't always a lack of engineering talent according to Taylor, but a failure to effectively communicate and illustrate vital design requirements. "Good engineering is just well-applied math," says Taylor. "It might seem simple to convey an idea in mathematical terms, but without a visual tool to really make you think about how you will physically apply those calculations, you can miss a lot."
To facilitate the communication that produces better design, Taylor encourages contractors to create and submit designs in Working Model. "Historically, our vendors haven't done a whole lot of predictive engineering," says Taylor. "In the past they worked with design requirements that we provided and left it at that. Now they can see in Working Model exactly how their hardware works within our designs and they can tweak their own designs to fit more precisely."
Visible Results
Thus far, Taylor is encouraged by the results from contractors that have adapted Working Model to their design software solution. "There's no comparison in the quality of work we saw before vendors used Working Model and the work we've seen since. Mechanisms that we design together are working better and require fewer revisions."
Contractors are impressed with the potential of simulation software too. According to Taylor, 70% of the vendors that frequently supply his company are currently using Working Model, and more continue to use it earlier in the product development cycle than ever before. Those developments make Tim Taylor's job a lot easier. They also foretell a bright future for collaborative design in the virtual world, which excites the forward-thinking Taylor. "Through the use of software simulations my department and our vendors can design very interactively. Our vendors understand our engineering values better and can visualize what they need to do to make their products more compatible. A few years from now, we won't be doing it any other way."
---