Dynamic Designer Motion
CAD Embedded Motion Simulation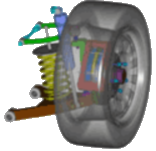 A typical machine developed by Machine Design Services contains upwards of 60 cams and operates at 100 parts per minute. Before cutting a single piece of metal they test for clearances, timing, bearing loads, and part accelerations using Dynamic Designer.

Paper products manufacturer Kimberly-Clark used Dynamic Designer/Motion software from Mechanical Dynamics to study the design of its unique Kleenex(R) tissue-packaging equipment in operation. As shown here, cardboard cartons are moving through the machine and opened so tissues can be inserted. Animation shows the interaction of the cartons and transfer lugs. The cartons are displayed transparently to show the action of the background parts.

Machine Manufacturers Australia

At Machine Manufacturers Australia (MMA), engineers apply Dynamic Designer/Motion to check for interferences between parts and test for forces, stresses, and deformation. This helps assure that parts are correctly sized, material waste is minimized, and strength requirements are safely met.

Dynamic Designer/Motion, enables engineers to quickly and interactively modify their designs and perform motion simulations within the standard drawing file.

Dynamic Designer allowed Fanuc Robotics to validate the actual dynamic path of the Fanuc S-430iw robot while carrying the customer's desired payload without any physical testing.

Ward Machine Tool's challenge is to design a dual-actuated/multi-range aluminum wheel lathe chuck. Virtual tests revealed actuator sizing and ping shearing requiring significant design rework. The problems were identified without any physical testing.

Using Dynamic Designer/Motion, Cook Engineering Services performed a complete dynamic analysis of a motion base simulator currently in use at a San Francisco entertainment center. Cook's analysis quickly informed the client about electric motor torques, bearing loads, and vibration of the image projection equipment.

Unlimited's challenge with the Lynch glass-pressing machine design was to determine torque caused by a damping cyclinder failure under normal operating and crash conditions. By simulating the crash test with Dynamic Designer Motion, Unlimited was able to determine optimum normal-operation and worst-case mounting pad loading factors.
---